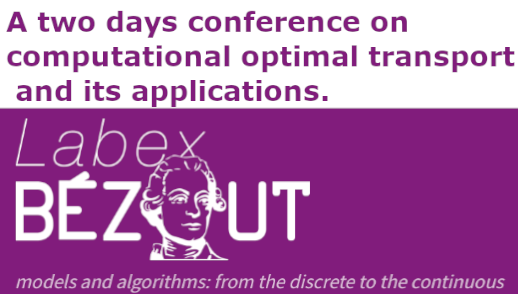 Paris area, train station: Noisy-Champs (RER A), 20 minutes from the center of Paris).
The conference will take place at the auditorium George Pérec, near the library – see map at University Gustave Eiffel. We warmly thank all the speakers and the audience for their participation in the conference!
Registration is free but mandatory: here
See program of the conference: (overview program and abstracts)
List of confirmed speakers (random order, more to come):
Matthias Dus (ENPC)
Johannes Hertrich (T.U. Berlin)
Nicolas Juillet (Univ. de Haute Alsace)(slides)
Maxime Laborde (Univ. Paris Cité) (slides)
Nathaël Gozlan (Univ. Paris Cité) (slides)
Matthias Erbar (Univ. Bielefeld) (slides)
Rémi Flamary (École Polytechnique) (slides)
Dinh-Toan Nguyen (UGE)
Gudmund Pammer (ETH Zürich)
Pierre Ablin (Apple) (cancelled)
Beatrice Acciaio (ETH Zürich) (slides)
Martin Rapaport (UGE) (slides)
Kexin Shao (ENPC) (slides)
Organizers:
Funded by the ANR (ANR-10-LABX-58) Labex Bézout.